A report by the International Telecommunications Union [PDF] indicates that 3.9 billion people do not yet have access to the internet, despite falling prices for ICT services and increasing mobile broadband coverage.
"Our new data show that in 2016, over two-thirds of the world's population lives within an area covered by a mobile broadband network, and that ICT services continue to become more affordable. Despite these unprecedented opportunities, more than half of all people are not yet using the Internet, and large differences exist in terms of broadband speeds and quality", Brahima Sanou, Director of the ITU Telecommunication Development Bureau says in the report.
The report indicates that key telecommunication/ICT indicators including mobile cellular subscriptions, internet use,fixed and mobile broadband services, and home ICT access have grown steadily, with seven billion people (95% of the global population) living in an area that is covered by a mobile-cellular network.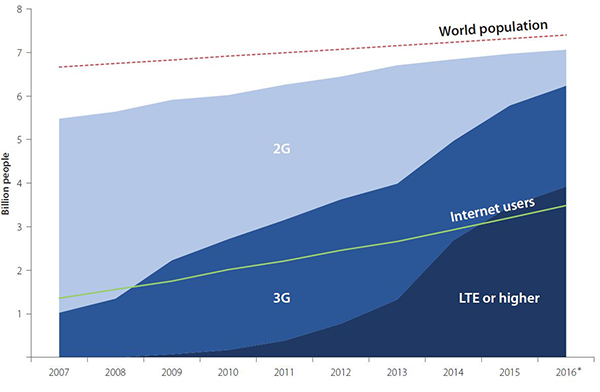 Developing countries now account for the majority of Internet users, with 2.5 billion compared with one billion in developed countries.
However, internet penetration tells a different story. Four out of five people in developed countries actively use the internet, compared to two out of five in developing countries and less than one in five in the Least Developed Countries.
"Access to information and communication technologies, particularly broadband, has the potential to serve as a major accelerator of the 2030 Agenda for Sustainable Development. Global interconnectedness is rapidly expanding, however more needs to be done to bridge the digital divide and bring the more than half of the global population not using the Internet into the digital economy," said ITU Secretary-General Houlin Zhao.
Mobile broadband growth slowing
Advanced mobile-broadband networks (LTE) have over the last three years spread over and reached almost four billion people today – corresponding to 53% of the global population. While the number of mobile-broadband subscriptions continues to grow at double digit rates in developing countries to reach a penetration rate of close to 41%, mobile-broadband penetration growth has slowed overall.
Globally, the total number of mobile-broadband subscriptions is expected to reach 3.6 billion by end 2016, compared with 3.2 billion at end 2015.
Fixed broadband growth strongest in developed countries
Global fixed-broadband subscriptions are expected to reach around 12 per 100 inhabitants in 2016, with Europe, the Americas and the Commonwealth of Independent States regions having the highest rates of penetration. Strong growth in China is driving fixed-broadband in Asia and the Pacific, where penetration is expected to surpass 10% by end of 2016.
ICT prices continue to fall
Mobile-broadband services have now become more affordable than fixed-broadband services, with the average price for a basic fixed-broadband plan more than twice as high as the average price of a comparable mobile-broadband plan.
By the end of 2015, 83 developing countries had achieved the Broadband Commission's affordability target.
Digital divide means half the world is still offline
By the end of 2016, more than half of the world's population – 3.9 billion people – will not yet be using the Internet. While almost one billion households in the world now have Internet access (of which 230 million are in China, 60 million in India and 20 million in the world's 48 Least Developed Countries), figures for household access reveal the extent of the digital divide, with 84% of households connected in Europe, compared with 15.4% in the African region.
<align=center>

Source: ITU Facts and Figures 2016 Report
Internet bandwidth is unevenly distributed
At the start of 2016, international Internet bandwidth had reached 185,000 gigabits per second, up from a low of 30,000 gigabits in 2008. However, bandwidth is unequally distributed globally, and lack of bandwidth remains a major bottleneck to improved Internet connectivity in many developing and Least Developed Countries.
The challenge of getting more people online lies in the fact that least-developed countries lack access to international connectivity infrastructure. Fiber networks are expensive to build, therefore they often rely on older network infrastructure which is lacking in capacity.
While governments are often encumbered by considerations that may put the provision of internet access lower in the priorities table, private sector players like Google and Facebook are working on solutions to deliver high-speed access to remote areas where funding is lacking. Additionally, companies like BRCK and Outernet are creating mesh networks that cover the gaps in connectivity on a smaller scale, which means that the major bottleneck keeping half the world's population offline could be overcome in the coming years, and we are likely to see a jump in numbers over time as more people are able to get connected.
Share this article via: